On a recent Sunday afternoon, a Tennessee car accident resulted in the death of two people, including a 5-year-old girl. The collision occurred in Giles County on Crescent View Drive.
Officials say the driver of the vehicle appears to have veered off the road, over-corrected and then slammed into a tree. The car burst into flames. The driver and the little girl were killed. Another girl, age 6, survived. The crash remains under investigation.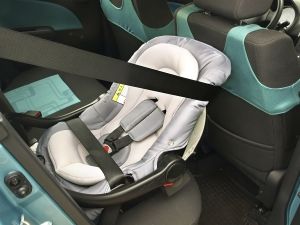 The Tennessee car accident lawyers at Meade Law Group recognize that this tragedy is one of many involving young children in this state. Arecent report by the U.S. Centers for Disease Control and Prevention reveals that while child traffic deaths in this country have fallen by 43 percent over the last 10 years, we still lost 9,000 children under the age of 12 to preventable car accidents during that time.
In fact, the National Highway Traffic Safety Administration reports that motor vehicles remain the No. 1 cause of death for 4-year-olds, as well as for those ages 11 through 14.
On average, three children die every single day in this country in a car crash, and another 470 are injured.
Tennessee has an especially high rate of child traffic deaths. In 2011 (the last year for which figures are available) there were 35 children killed in traffic crashes in the state. Four of those were under the age of 1; 2 were between the ages of 1 and 3; 10 were between 4 and 7; and 19 were between the ages of 8 and 14.
Our state tied with two others for the No. 10 spot for most children killed in motor vehicle crashes that year.
Clearly, more has to be done to drive down these figures.
According to the CDC's recent report, the best way to reduce child injuries and deaths on our roads is to use car seats, booster seats and safety belts. Roughly one-third of children who died in crashes over the last decade weren't properly belted. That figure was even higher for minority groups (45 percent for black children and 46 percent for Hispanic children).
Tennessee is one of only two states in the country that require children to be buckled in until they are 8-years-old. The only other state is Wyoming. Most other states have child restraint laws requiring kids to stay buckled until age 6 or 7. A dozen only require children to use car seats or booster seats until age 5.
So, at least in this regard, we're doing something right.
Still, the NHTSA estimates that some 800 children might have survived over the last 10 years had everyone made sure to buckle up every child on every trip.
Part of bolstering safety is becoming educated on what the safety recommendations are for each age group. The NHTSA recommends that children up until the age of 2 should sit in a rear-facing car seat.
Forward-facing car seats should be used for children until they reach the age of 5, or until they reach the upper weight limit for that seat.
Booster seats should be used for children 5 and up until a seat belt fits properly, usually when the child reaches about 57 inches tall. Still, even older children should remain in the back seat for maximum protection.
Meade Law Group serves Johnson City and the Tri-Cities. Contact us today at (423) 464-7779or visit www.injury-lawyer-tn.com for a free consultation.