You expect an airbag to protect you in the event of a crash, but millions of vehicles may be equipped with dangerous airbags that can cause serious injury or death. The National Traffic Safety Administration in October issued a strongly worded consumer advisory urging owners of several makes and models of cars to act immediately on recall notices to replace defective Takata airbags, but our Tennessee product liability attorneys believe U.S. regulators have not gone nearly far enough to protect the public.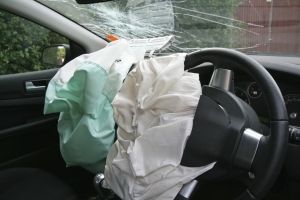 According to the NHTSA, the recall involves 7.8 million vehicles, including certain Toyota, Honda, Mazda, BMW, Nissan, Mitsubishi, Subaru, Chrysler, Ford and General Motors vehicles. Owners of the affected vehicles were encouraged to stop driving their cars until the vehicles could be inspected by a dealer.
The Takata airbags, when deployed, can spew metal shards into the car occupants. These faulty airbags have been linked to at least four deaths and a number of serious injuries.
The NHTSA's consumer advisory in October notes its message comes with urgency, especially for owners of vehicles in hot or humid climates. But the airbag problem is not limited to tropical climates. The NHTSA recently received a complaint involving a 2010 Honda Civic from Reisterstown, MD in which the driver seat was fractured in half by a metal fragment from an airbag that deployed unexpectedly.
NHTSA Criticized for Weak Oversight
The NHTSA has come under fire for being too lax and slow in dealing with the crisis. U.S. representatives and senators have taken the agency to task. Sens. Ed Markey, D-Mass., and Richard Blumenthal, D-Conn., want the NHTSA to extend the recall to include the entire nation, not just states with hot and humid climates.
Clarence Ditlow, executive director of the Center for Auto Safety, wrote a letter to the NHTSA in late October about the confusion created by the agency. "The Center for Auto Safety is deeply troubled by NHTSA's secrecy and conflicting messages on deadly Takata air bags," Ditlow wrote.
Furthermore, the agency has faced criticism for providing an incomplete list of vehicles under recall and for mistakenly naming GM models that use Autoliv airbags which were once recalled 12 years ago. Functions on the NHTSA website to check on recalls, investigations and complaints were inoperable.
According to the New York Times, Acting NHTSA Administrator David Friedman agreed with a move by Toyota, which stated it would disable defective airbags because no airbag was better than a potentially deadly one.
According to the NHTSA, the airbag defect recall goes "as far back as 18 months." However, it appears the agency is seriously underplaying the crisis. Honda eight years ago issued its first recall for Takata "airbag inflators that could produce excessive internal pressure."
And between April 2000 and Sept. 11, 2002, some airbag repellent wafers manufactured during that time may have been produced with inadequate compaction force. Other recalls were issued in 2009, 2010, 2011, 2013 and 2014.
In one of the recent tragedies linked to the deadly Takata airbags, Hien Tran of Florida died after she was hit by shrapnel from her exploding airbag. The shrapnel caused stab-type wounds that made police suspect she died as a result of a homicide. A week after her death, a letter from Honda was sent to her urging her to get her car repaired because of the faulty airbags.
When it comes to dealing with big corporations and government bureaucracy, victims of airbag injuries and families who lost loved ones may be best served by consulting with an experienced attorney. At least one class-action lawsuit has been filed against Takata Corp. and Honda Motor Co., according to the Los Angeles Times. The complaint, filed in late October in federal court in Los Angeles, alleges that Takata and Honda cut corners and put profits before the safety of consumers.
The airbag problem goes beyond the risk to lives. Millions of people whose cars are equipped with these faulty airbags have to deal with the possible decline in the value of their vehicles.
The airbag crisis appears to becoming more pressing by the day. With lives at stake, it's essential that NHTSA take aggressive action to ensure the safety of all Americans. This should start with a nationwide recall, as U.S. senators Markey and Blumenthal have urged.
If you or a loved one has been affected by a defective Takata airbag, don't hesitate to contact an experienced attorney at Meade Law Group. Our firm serves Johnson City, TN and the Tri-Cities. Call (423) 464-7779​or https://www.injury-lawyer-tn.com/